Our 2021/22 data shows that we have delivered successful outcomes for an increased number of service users and we are committed to continuing our growth to meet the demand and needs of those who require our help. In 2022, we will be providing additional residential beds for men, and for women through our groundbreaking new women's treatment programme – our pilots have proved to be a much needed provision.
We will provide additional retreat and counselling programmes this year and continue to provide bed space for complex cases through our partnership with Adferiad.
Applications
Quarter on quarter growth has seen applications for treatment more than double in 2021/22, from 277 in 2020/21 to 619 in 2021/22. Applications for our retreat and counselling service remain popular post-pandemic, but the majority of our applications continue to be for residential treatment following a drop in 2020 due to the pandemic.
Overall applications have been consistent across gender with applications from men and women both increasing over 120%. The average age of our applicants has risen by two years compared to 2020/21, with women on average applying for treatment at an older age than men, age 41 for women compared to age 37 for men. The highest percentage of applicants, 43%, fall in the 25-34 year old band.
Applications have been increasingly diverse compared to 2020/21, with applications from non-white ethnicities increasing nearly 100%. As part of Gordon Moody's future strategy, we will strive to meet demand and ensure treatment is available to all.
We will commence treatment delivery in Manchester in 2022 and the North West showed the most growth, 15%, in terms of demand in 2021/22.
Half of applicants were employed and 63% of applicants self-referred themselves to Gordon Moody. Our collaborative work with others in the National Gambling Treatment Service (NGTS) and wider treatment sector has lead to an increase of referrals from other organisations.
Pre-Treatment
Our vision is that all those most affected by gambling-related harm will have access to the right help, in the right place, at the right time.
The growth in applications in Q4 meant an increase in the time taken to process applications. However with more bed space available, the onboarding team were able to cut the total waiting time from application to entering treatment to 36 days. During the waiting time, clients are in receipt of pre-treatment support, with 24 pre-support groups in Q4. Accepted applications and the uptake of pre-treatment support continues to increase. Those that are not accepted for treatment are referred to other services ensuring that we provide the right treatment options for all those who apply.
In Q4, 102 pre-treatment support sessions took place. Pre-treatment support is vital in holding clients until a bed space becomes available but is not a substitute for treatment. It is positive that, despite the increase in applications, access to treatment has been faster, reducing the need for long periods of pre-support.
A number of services users engaged in pre-treatment support gave the following feedback:
"Someone genuinely cared, it provided ongoing structure with no judgement, and they gave me knowledge, help and hope whilst I waited for a place on the programme."
"It saved my life, helped me to get other support I needed including GP appointments. Without the pre-support I wouldn't be on the programme and probably not alive."
"It would have been detrimental not to have pre-support, the first phone calls were a constant reassurance that someone was there."
"It helped me hold a positive mindset knowing I was on the waiting list for treatment. Getting pre-support is undeniably helpful and removed doubts and avoided me sabotaging my commitment to make a life change."
Treatment
Our mission is to be the benchmark for successfully treating people with the most severe gambling addictions.
Despite entering 2021/22 under Covid restrictions, 109 admissions were made across our men's residential and retreat and counselling services – which is close to our capacity of 114 spaces. Completion rates improved across all services supported by pre- and post-treatment engagement. In addition, a pilot of a women's residential programme ran with only one service user not completing the programme.
The average improvement of the PGSI score from the start of treatment to the end of treatment is 20 points for residential and 13 points for retreat and counselling, with scores remaining low post-treatment.
The Problem Gambling Severity Index (PGSI) is used to measure a client's gambling harm and is on a scale of 0-27.
The improvement of CORE-10 scores from the start of treatment to the end of treatment are also very positive, with a 14 point improvement in residential and an eight point improvement for retreat and counselling. Both services see an increase in the CORE-10 score post-treatment which is why we have invested in additional post-treatment support.
CORE-10 measures a client's anxiety, depression, trauma, physical problems, functioning, and risk to self on a scale of 10-40.
Annual statistics from the National Gambling Treatment Service published for the year 2019/20 by GambleAware show average PGSI improvement scores in UK treatment of 12 and CORE-10 improvement scores of 8.
Post Treatment
We help people to reclaim and rebuild their lives free from gambling addiction and offer a range of services in post-treatment to support our service users in their recovery.
Q4 saw the highest amount of post-treatment interactions in 2021/22, with 480 compared to 461 in the previous quarter. Unique users in post-treatment support increased to 47, almost four times the amount in Q1. We held 284 one-to-one post-treatment sessions in Q4, more than double compared to the 137 sessions held in Q1. The improved engagement was helped by an increase in staff, collaborations, and investment in our wrap-around programme.
A number of services users engaged in post-treatment support were asked – What do you get from continues support post-treatment?
"The therapy and on-going support from Gordon Moody has been instrumental in dealing with my gambling addiction."
"The sense of security knowing there is someone for help and support as and when needed."
"Confidence to move on as I was very depressed with my situation after giving up gambling."
"I feel it's important to have continued support because it prevents the risk of relapsing."
"It gives me support knowing I have someone to turn to and that I can decide how often I need the on-going support."
"It is vital to my recovery knowing that if I am in a position where I have identified a trigger/warning sign, I can talk to someone who understands it."
Full Data Report
The full data report is available here.
For further data insights, or to discuss collaborations or contributions, please contact Rob Mabbett – Director of External Engagement.
Be part of something great
A former Gordon Moody resident said:
"This service was my lifeline and has given me my life back! I can't thank Gordon Moody and all their employees who have created such a brilliant service enough!"
Gordon Moody is growing! With more services launching to meet the increasing demand of people reaching our for support – we need your help.
From making donations to sharing our social media messages, there are loads of ways you can get involved to help people reclaim and rebuild their lives free from gambling addiction.
For more information, including on our services, please get in touch. Join us on social media: Facebook Twitter Instagram LinkedIn.
Gordon Moody is a registered charity (1124751) and we are authorised by the UK Gambling Commission to receive RET contributions.
The Current Advances in Gambling Research (CAGR) conference was recently held in Cardiff and Dragos Dragomir, Goody Moody Clinical Director, attended along with one of our trustees, Annika Lindberg. The conference was funded by the GREAT Network Wales, Gambling Research Exchange Ontario (GREO) and the Society for the Study of Addiction (SSA) and brings together academic and clinical experts, and experts by experience, from across disciplines to discuss the latest developments in gambling research in a supportive and critically reflective environment.
Dragos reflects on the conference:
It was a special year for CAGR as, for the first time, a greater emphasis was placed on the important role of those with lived experience of the harms caused by gambling. It was refreshing to feel their understanding that there can be no progress made in research, education or treatment development without joined involvement of those affected by gambling harm.
A dedicated Lived Experience session – More Than Just a Story – sat at the core of the conference and drew wide interest from all participants. It was also great to see a few other experts of lived experience that have supported so many people affected by harmful gambling in the last few years.
Meeting fellow attendees
I was honoured that Annika and I got to meet with Joel Billieux, Zsolt Demetrovics, and Damien Breves to talk about the latest advances in understanding the neuroscience of gambling behaviour and the developments of the pathways model of problem gambling in the last 20 years.
We had a great meeting with Agnes Nairn, the Co-Director of the newly launched Gambling Harms Research Centre at Bristol University and discussed the possibilities of collaborating in research of best practice treatment interventions for those most affected by gambling related harm.
The programme was packed with so much useful information and was delivered at a quite impressive pace! Four keynote presentations were brought by leading figures in the study of gambling and its treatment, namely Henrietta Bowden-Jones, Heather Wardle, Luke Clark, and Joel Billieux.
Presentation topics
Over 20 other presentations were delivered by researchers from all across the world. The presentations were grouped into four crucial topics for the current landscape of the education, prevention and treatment of gambling:
Populations vulnerable to gambling
Neural, cognitive and motivational processes in gambling
Gambling advertising, social media and emerging data platforms
Tracking, preventing and treating gambling related harm
Introducing our new programme to CAGR
I am grateful to have had the possibility to introduce Gordon Moody's flagship women's residential programme and to see the interest of all those present into this new avenue for support for women affected by gambling related harm. I gathered so much insight that we can use in the further development of our treatment services at Gordon Moody.
Thanks
Thanks must go to the organisers of the conference – you made it a great experience for all the attendees. Looking forward to doing it all again at #CAGR2023!
A group of Gordon Moody colleagues, service users, and family and friends recently took on the Three Peaks Challenge. After four days, over 24 hours on the road, over 1,000 miles travelled – 23 of them hiked, 3,000 meters climbed on three mountains in three countries of the UK, we are happy to report that the team completed their epic challenge. Rob Mabbett, Head of Growth, takes up the story.
What started out as an ambitious idea from David Hollingsworth, Gordon Moody Treatment Centre Manager, last year whilst attending a peer support event in Cumbria finally became a reality in April. Five members of the Gordon Moody team, along with several former residents, four guides, and collaborative partners Richie Paxton from Epic Restart Foundation and Cheryl Williams from Adferiad took on the famous challenge of climbing the highest mountains in Scotland, England and Wales. David said:
"We needed to do something big to recognise the huge milestone of Gordon Moody's 50th year of providing residential treatment for those severely affected by gambling addiction. The initial idea was to run the event in October 2021 by taking '50 hours for 50 years' to complete the challenge, but in the end the sensible decision was taken to climb one peak per day!
"Over the years, Gordon Moody have helped thousands of people reclaim and rebuild their lives, with many stating they would not be here today without the support and treatment provided by the charity. For many starting out on their road to recovery, it will feel like they have a mountain to climb. So the Three Peaks Challenge seemed fitting to show that gambling addiction, like the mountains before us, can be overcome and that at Gordon Moody we are with you every step of the way."
Months of preparation, training, and planning went into the event. The team donned their hiking gear or running shoes, got on their bicycles, hit the gym or took to the pool, all in an attempt to get fit for the challenge ahead. This, combined with some expert advice from the guides on what to expect, helped us get ready mentally and physically.
Off we go
Thursday 7th April arrived and we congregated at the Dudley treatment centre ready for the first, and longest, of four journeys as we set off for Scotland and Ben Nevis. As we started to get deeper into North West Scotland, the terrain started to change and we were all admiring the stunning view. A hush descended on the minibus as many of us started to realise the scale of what lay ahead. Mountains passed by one by one with each seeming higher than the one before and we knew the biggest was yet to come and that would be the one we would be tackling in the morning.
We arrived at our first hostel just in time for an energising pasta dinner followed by a briefing from our guides before heading off to bed to get some rest for the mornings climb. This started the routine for the next three days.
Ben Nevis
Despite some interesting weather on the journey to Scotland, with occasional heavy hailstones, we awoke to a clear and pleasant morning. Although it was cold, we could not have asked for better – given that the forecast a few days before had not been very promising.
The foot of the mountain lay just across the road from the hostel so, after a good breakfast, we set off at the crack of dawn on our first climb. Our expectations had already been set that we would not be able to make the summit of Ben Nevis as heavy snow meant we were not equipped or skilled enough to take on such conditions. The previous week a group had got into serious difficulty and our guides were there to ensure our safety.
It was rumoured that the start of Ben Nevis was difficult but I had no idea what was in store. A relentless climb for over 40 minutes was certainly a wake-up call and I very quickly had my doubts as to whether I would be able to carry on but lifted by the team, and a quick crash course in using walking poles, and I was soon getting into a rhythm.
As expected, the group split into two with one going off ahead and one bringing up the rear and, although I was in the back group, it seemed like no time at all until we reached the snow line. We met up with the rest of the group and the guides offered us two options. As we had made such good time, the lead group could go on a little further if they wanted with the slower group beginning their descent. Or we could all move forward as a group together to see how much further we could get. It was at this point that Kevan Mailey, Beckenham Support Worker, spoke out and said we stay together as one group and that we don't leave anyone behind. Those words from Kevan will stay with me for a long time and completely captured the spirit of the challenge. From that point on, we knew that whatever we achieved over the next three days would be done as a collective.
Our climb of Ben Nevis took us higher than the peaks of the next two mountains and after a tricky descent – a few say going down the mountain is harder than going up! – we arrived safely back at the hostel with a sense of great pride tempered only by the fact that we had to get a quick change and be back on the minibus to start our journey to the Lake District and Scaffel Pike.
An excellent dinner awaited us at Scaffel Pike and after our briefing, we had a little downtime before heading off to bed to be ready for our next challenge.
Scaffel Pike
A little lie in and a cooked breakfast was welcomed by all the next morning and we made the journey to our next climb. Once again we were blessed with the weather and we started our ascent of Scaffel Pike, which was a much gentler beginning than that of Ben Nevis. The easy beginning was soon over however as, once we crossed a fresh water stream that ran across the mountain, the gradient increased and we were soon trekking across loose shingle and jagged rock. As we neared the snow line, the plunging temperatures meant that the going under foot was becoming very icy. But with the end in sight, we urged each other on towards the summit.
As with Ben Nevis, there was a leading group and a slower group but as was promised in the snow in Scotland, everyone made the summit of Scaffel Pike in record time. Mission accomplished? Well actually not quite! Bracing temperatures of -14 degrees meant that our stay at the top was brief, so it was a quick photo, a quick refuel, and then we began what I can say was the hardest part of my Three Peaks Challenge. The loose rock and shingle which made our journey up tricky, made coming down incredibly hard and by the time I had made it back to the stream, which signalled a gentler descent back to the minibus, a few of us – me included – were starting to feel the strain.
It was a fantastic achievement and there was a real sense of accomplishment in everyone getting to the summit, but the journey was a mixture of jubilation and trepidation as we made our way to our final peak, Snowden in Wales.
We arrived at Snowden on Saturday evening with the finishing line in sight. Conversations on the minibus previously about the difficulty of each of the peaks had been around each one decreasing in difficulty as they went along. Ben Nevis had been the most challenging, followed by Scaffel Pike and then Snowden. This was not how the conversation went over dinner, the fatigue felt by us all meant we were under no doubt that the final climb would be a strong challenge.
Snowden
For the final morning we were met once again with perfect weather and the camp was well rested and in good spirits for our final ascent. Interestingly, some of those that had gone on ahead on the previous two slopes decided to stay back and go at a more gentle pace, taking in the experience and the scenery as well as sharing in the experience of the challenge.
Snowden presented a different challenge to that of the previous climbs, with parts of the ascent requiring some 'scrambling', where we had to pull ourselves up some steep rocks. But with the end so close, we all found the strength to make it up those last few rocks and start our final climb towards Snowden's summit.
The fatigue seemed to disappear and was replaced by feelings of joy as we all reached the top of Snowden and completed what was one of the most ambitious challenges undertaken by Gordon Moody – certainly in its recent history. The stories shared and camaraderie of those few days will live long in the memory, certainly longer than the memories of any muscle pain or blister. I was so very proud to have been a part of the experience and learnt so much from those I travelled with. All of us in some way have conquered our own mountains in the past and for many like our Three Peaks Challenge, the only way to accomplish this was by working together.
Thank you
We would like to thank all those that supported us on our journey up and down all three peaks. We raised an impressive total of £22,500 and the team couldn't be happier.
The last words must go to the organiser, David Hollingsworth:
"It was a huge undertaking to put the event together and we had initially planned on assembling a team of 50 people. In the end, the intimacy of doing the challenge as part of a smaller group worked really well. It allowed really strong bonds to form between us all, new friendships were made and stronger recoveries were cemented.
"The challenge was a memorable way to mark our 50th anniversary and if I can summon the energy to organise it once more, I would love for it to become an annual event meaning more people associated with Gordon Moody can say 'I took on the Three Peaks Challenge and I conquered them all.'"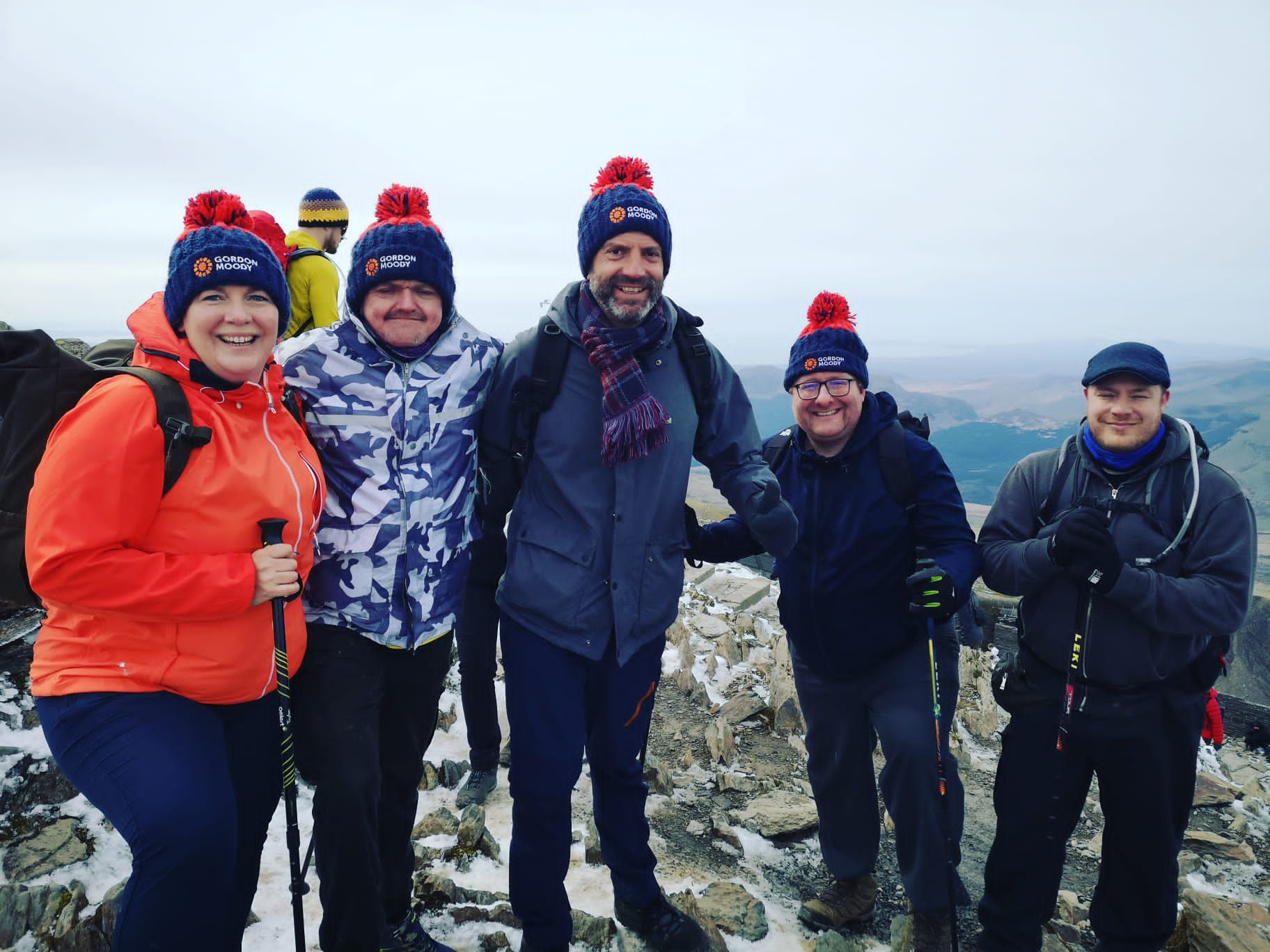 If you are concerned about your own or another's gambling – Gordon Moody are here to help. Lets tackle gambling addiction together.
On Saturday 2nd July, a group of women and their families will take to the streets of London and will walk across seven iconic London bridges on the Bridge To Freedom walk. The charity walk is to raise awareness of the support available to women facing gambling addiction. The walk is a follow-up to last year's inaugural walk and signifies getting to the other side and freedom from addiction.
The walk is raising funds for Gordon Moody, who are the UK's only charity dedicated to providing treatment and support for those most severely affected by gambling addiction. Gordon Moody have been saving lives since 1971 by providing recovery in a safe and supported environment. The funds raised will mean more people will be able to reclaim and rebuild their lives, free from gambling addiction. Female and male specific programmes are offered in a safe and supported environment, providing the most effective therapies, intervention, and counselling possible.
Whilst there has been growing visibility of women reaching out for help, there is still work required to ensure that women get the right support, right treatment, and right environment to deal with the range of complex issues that need to be tackled in helping them address their gambling addiction. Gambling is the hidden addiction. Hidden further within that is the story of women gamblers and women who are affected by others.
Bernadette Gilham, a mother of a compulsive gambler said:
"I am delighted to join the Bridge to Freedom walk in July. I hope to catch up with friends I made on the walk last year."
Lisa Walker had gambled for most of her life and ended up losing everything, including her home.
"At the age of 45, I started my recovery through Gamblers Anonymous, and never looked back. I now support people with gambling addiction and have set up a group called New Beginnings. I also work with BetKnowMore and I have great opportunities. Life without gambling is good."
Tracy Madlin, an ex-Gordon Moody service user, is one of the organisers of the walk. She said:
"Gordon Moody let me be me. They gave me the tools to live a life without judgement, and with empathy and understanding. Light shines from within. Sharing is caring and we are never alone."
Stacey Goodwin, aka The Girl Gambler, is a fellow ex-Gordon Moody service user and has gone on to document her recovery on social media, her TikTok channel alone has over 101,000 followers. Following her successful completion of treatment at Gordon Moody, Stacey has remained gambling free and has dedicated her time to raising awareness of the issue of gambling addiction in women. Her recent book, titled 'The Girl Gambler', is the story of a young girl's entrapment in gambling addiction. The true advert for problem gambling and how it controlled her every movement, her every thought, and almost took her life. Stacey said:
"You can get better, you can break the cycle. No matter how long you may have had your addiction, it's NEVER to late."
To sponsor the team, please visit their Just Giving page. Every donation will make a difference. £500 will provide a female gambling addict with a month of personalised support from our resident therapists.
Gordon Moody FC are our 5-a-side football team from our Dudley centre. They have been playing together for about 12 weeks and have had a dire record so far, as one of the players outlines:
"We lost our first seven games in a row, including a 20-3 ass whooping. Along the way we've had some unfortunate injuries at the worst possible times which, coupled with all the losses, could of affected morale and we could of just given up. Nobody likes losing, especially us."
Despite all that, coupled with a shortage of players many weeks, the team have persevered through it all and have now won their last four games in a row. What an amazing turnaround!
"Winning isn't everything and we'd still be playing now if we hadn't won a single game, but it has really helped the team morale.
"This just goes to show that if we stick at things and put the work in, things do get better. We started as a group of individuals and now we are a solid team. Everyone knows their place in the team and we've worked hard in each game with a common goal."
The teams fitness has become much better than when they started.
"I know that because the team know they have a match on Sunday, they have started working on their fitness and diet in their free time to try to better themselves."
There are parallels from the recovery programme that align with the football team. Gordon Moody FC represents the charity in a positive light and the team have had conversations with opposition players about where they are from and why they are there and have always had positive reactions and responses.
"The positives of the team include perseverance, work ethic, team building and bonding, punctuality, increased health and fitness, creativity, self-expression, temperament, following rules and having respect for each other, opponents and the referees."
We are hoping the team will become a permanent fixture in the programme and the team feel that is has been really beneficial in bringing together service users from the treatment and recovery sides of the house.
"There has always been a great camaraderie amongst us all and I always enjoy the conversations we have on the bus to the games and afterwards.
"We want to say a massive thank you from us all for trusting us and supporting us with this team. It's great for us all to be given the responsibility and we are very proud to represent Gordon Moody."
We wish all the team the best for the next season!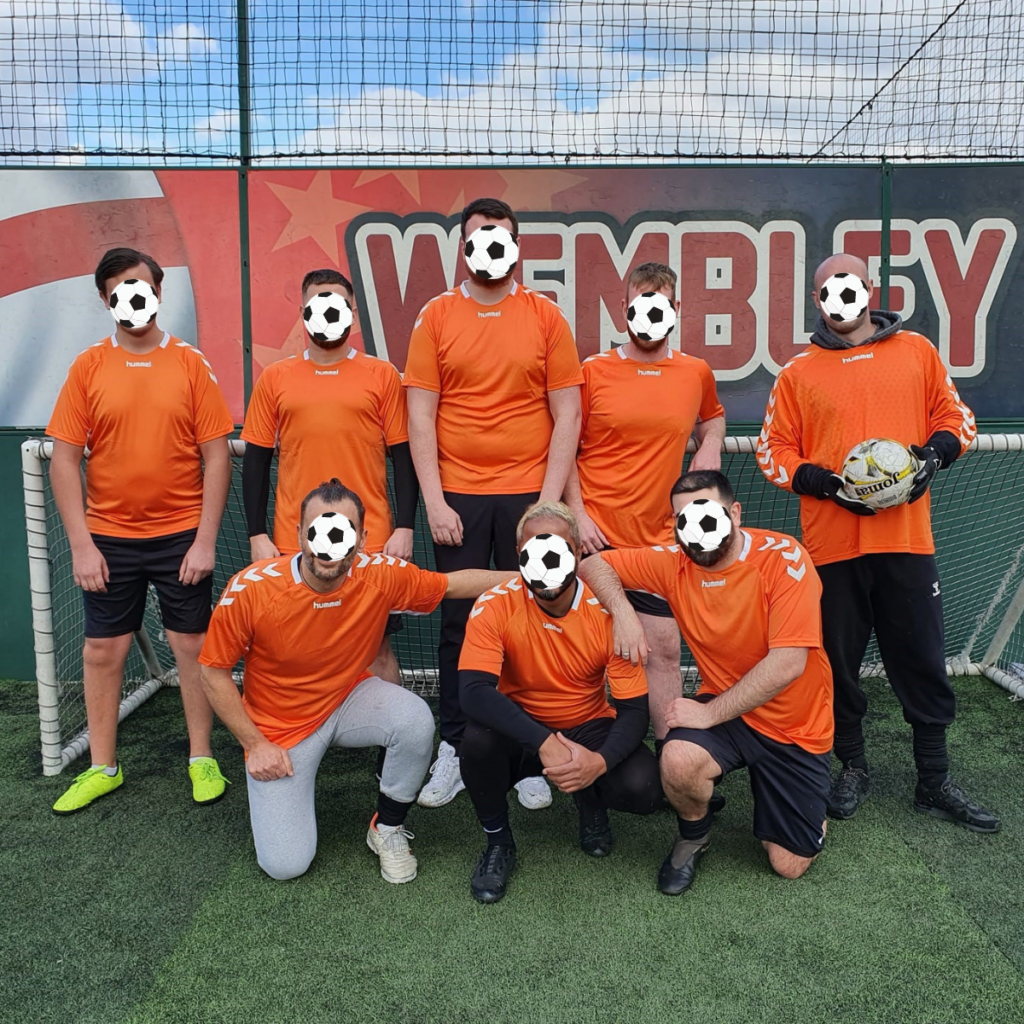 Gordon Moody are the UK's leading charity dedicated to providing support and treatment for gambling addiction. We help people reclaim and rebuild their lives through recovery in a safe, supported environment.
Mark Murray is a recovering gambling addict who received treatment at Gordon Moody. He is the co-founder of Whysup – who are dedicated to reducing and resolving the devastating impacts that addiction and mental illness has on individuals, organisations, and communities through a wide range of support. The team at Whysup use their lived experience to help others gain a better understanding of addiction and mental health, equipping their audiences with the emotional and practical tools they need to help themselves or someone else.
Mark recently sat down with Jim Nixon from The Community Safety Podcast to talk about gambling addiction. His story highlights the seriousness of gambling addiction but is also a journey of recovery and hope. You can listen to the episode by clicking here.
In 2021, we started to coproduce a collaboration with WhysUp that sees lived experience delivering sessions as part of our treatment programme, in addition to a robust package of Outreach Aftercare and our own Gordon Moody lived experience teams. Mark completed Gordon Moody's residential treatment programme for gambling addiction back in 2013 and, together with his business partner Liam McBride, assisted us in developing a package that they know from their own recovery experiences and those they support.
Gordon Moody have over 50 years' of experience of tackling gambling addiction together. We are the UK's leading charity dedicated to providing support and treatment for gambling addiction. We help people reclaim and rebuild their lives through recovery in a safe, supported environment.
If you need help, we're here to help. Gambling is a problem if it causes a problem. Live chat is available on our website.
As we celebrate women all around the world today, Gordon Moody is aware of the growing need for treatment for women affected by gambling addiction. In the past 12 months Gordon Moody, a treatment provider for those most severely affected by gambling harm has seen applications for treatment from women more than double in the last 12 months.
We know women are underserved for Gambling Addiction and should be better protected from the devastation it can cause to their lives and others. 1 million women are at risk of addiction to gambling, this shocking figure highlights the scale of the problem. We also know that this may be underrepresented as the stigma and embarrassment for reaching for help is far more prevalent in women.
To meet this growing demand Gordon Moody is providing additional treatment spaces for women through its retreat and counselling programme and a new residential service opening later in the year providing a bespoke treatment programme for Women.
9,000 women called the national gambling helpline in 2019/20.  Of those women callers 59% were seeking help for a loved one and 41% are seeking help for their own gambling issues. Only 2,000 women accessed treatment for disordered gambling last year, this figure is thought to be only 3% of the actual number that need treatment. There was a 54% increase in the number of women gambling online compared to 28% for men. Women's online gambling is highest in the winter months. Gambling is being heavily promoted to women. In 2020, women were exposed to an average of 18.5 adverts per week vs 15.9 adverts per week for men. (Gamble Aware 2019)
Gordon Moody offers
100 number of places available per year for women most affected by Gambling harm.
Retreat and Counselling Programme. Attendees experience a three-night stay in a retreat setting where they can disengage from their day-to-day life and take part in a series of therapeutic group workshops surrounded by and supported by women facing similar problems.
Eight weeks of weekly one-to-one group sessions follow,  before another two-night retreat stay where participants can meet and share their learnings before completing the programme with some further one-to-one sessions. The programme is 12 weeks duration in total.
Gordon Moody also supports people suffering from gambling harm internationally.
Available in many different languages, and with advisors based around the world, Gambling Therapy provides help and support that is tailored to your needs – regardless of nationality or culture.
Stacy Goodwin found Gordon Moody, which set her on the road to recovery: "I cried with relief in there. It was the first time I heard women talking about gambling and knew it wasn't just me. I learnt the science of addiction too, how I'd chased dopamine hits my whole life. The overpowering judgment and guilt lifted."
 Stacy's story is not uncommon, and she highlights how gambling is a hidden addiction shrouded in isolation, shame and guilt for women.
Gambling addiction is a serious public health concern, which is often not as high profile as other addictions, as people think you can simply stop doing it. You are in control. However, it is possibly more addictive. More alcohol is not the solution to an alcohol addiction, more drugs are not the solution to a drug addiction, but gambling is the solution to getting you out of debt that you may have created, so you chase your losses continuously.  Next time might be your big win.
Stacy said: "As I realised I had a problem, I'd search online for a celebrity who had spoken about her gambling addiction and there was nothing. Gambling is incredibly lonely. As a woman, that's amplified."
 Hiding your habit, spending more than you can afford and losing track of time are early warning signs of a problem.
At 23, five years into her addiction, Stacey tried to commit suicide, having lost £50,000 in six days. "I thought I was chasing a jackpot all those years. That's when I realised it was ill." In 2019, she gambled away her partner's mortgage payment. She decided that her only escape would be to put herself in prison, through crime, or go to rehab. She says: "There were no other ways to stop harming myself and people I loved."
Stacey has documented her recovery in a book and on social media, where she offers support to other women using the handle @TheGirlGambler. Her TikTok account has 88,000 followers and she receives 300 messages a week from people touched or helped by her story. She reflects: "If these conversations had been out there for women when I was gambling, it would have massively helped me to know I was not alone and that support was available.
If you, or you know someone who is being negatively affected by gambling, please get help, as it is out there.
The latest data release from Gordon Moody shows applications for gambling addiction treatment rise for the 3rd consecutive quarter. Read the full report here Gordon Moody Data Insights Q3 Jan 2022
Traditionally the 3rd quarter of the year at Gordon Moody which runs from October to December can be a very challenging period. Our residential and retreat and counselling programmes both run for 12 weeks therefore from October onwards we historically experience a degree of trepidation from those seeking help around entering a treatment programme that would run over the festive period, especially for those seeking residential treatment which would mean them being away from loved ones at this time. It is also a time that is very difficult for those affected by gambling addiction. The financial pressure and expectation of Christmas for those experiencing gambling issues can make an already difficult and vulnerable situation unbearable.
Last year our 3rd quarter provided our busiest period in terms of applications with 80 people seeking Gordon Moody's help, again this year our 3rd quarter has provided an increase in applications with 142 people applying for treatment a 78% rise compared to quarter 3 last year and a 15% on the previous quarter, our 3rd consecutive quarter of growth. In total the 382 applications received by Gordon Moody so far this year shows an 86% rise in applications compared to the same time last year. Obviously the rise in cases is a concern which is why at Gordon Moody we feel it is important to share our data and we would welcome any feedback or questions you may have around the report. We also however, see this as encouraging that people are making the positive step or reaching out for the support that they need, especially at this time of year. We are very much of the mindset the one Christmas spent in treatment can lead to a lifetime of Christmases enjoyed with friends and family free from addiction.
It has also been a positive quarter for referrals to and from Gordon Moody and we would like to acknowledge the hard work and collaboration between ourselves and other providers both within the National Gambling Treatment Service and beyond, we look forward to continuing to work together in 2022 to ensure those that need help have access to the right treatment in the right place at the right time.
Pre Support
Having already mentioned the vulnerability or our service users at this time of year it is imperative that our support pre-treatment is available for those at the start of their journey with Gordon Moody. We have worked hard to ensure timely assessments and decisions and have maintained the improvements in performance we made last quarter with assessments being completed within the week and waiting times for treatment stable at around 6 weeks. With increased treatment places available this year we expect waiting times to shorten.
1to1 and group sessions in pre support increased 16% and 30% respectively to meet the needs of our service users awaiting treatment.
Treatment
It has been a challenging but strong performance in treatment with well over 70% of service users completing along with an increase in admissions of 55% this is supported by reduced Covid restrictions compared to last year and the running of our first pilot of residential treatment for women. Along with our rates of completion our outcomes at Gordon Moody remain industry leading with the improvements in our outcome measures PGSI and CORE-10 ahead of the national average.
Post Treatment Support
Demand for post treatment support has increased in quarter 3 and overall interactions increase 25% this is further supported by our work with specialist lived experience organisations such as Whysup and EPIC Restart Foundation as well as the invaluable peer support of Gordon Moody alumni through visits to the services and Q&A sessions.
Family and friend support for those entering treatment at Gordon Moody continues to be available with weekly groups that are well attended with some whose loved ones have finished treatment and returned home continuing to attend to offer peer support to those who have recently joined.
We hope you find the report of interest and informative, for more information on Gordon Moody's services or for questions or feedback please contact Head of Growth Rob Mabbett
rob.mabbett@gordonmoody.org.uk
David Hollingsworth (Gordon Moody's Beckenham Residential Treatment Centre Manager) and his intrepid team of Gordon Moody colleagues, service users and, family and friends are taking on the Three Peaks Challenge!
Originally planned for 2021 to help celebrate 50 years of Gordon Moody as a force of healing and hope for individuals, families and communities affected by gambling addiction, the event will now take place in April 2022.
Climbing 9,500 feet and walking 22 miles, the team are still well up for the most highly regarded trekking challenge in the UK!
We asked Dave what inspired him to take on the Three Peaks Challenge:
"To help celebrate Gordon Moody's 50th birthday we are attempting the Three Peaks Challenge of climbing Ben Nevis, Scafell Pike and Snowdon, the three highest peaks in Scotland, England and Wales.
Whilst it can be done in 24 hours we are aiming to do it over two days, hence our 50 hours slogan. This should mean that anyone who wishes to take part can do so and we will all get up and down ok, assisted by experienced guides.
It is a huge logistical task but one that is well worth taking on for the individual and collective euphoria that will come as we descend Snowdon and say, we took on the Three Peaks Challenge and we won".
A tough challenge awaits the team and their boundaries will be pushed, but with support and encouragement, we know they can conquer the 3 Peaks!
If you would like to show your support for the team by making a donation to the campaign, you can give now at https://www.justgiving.com/campaign/50hoursfor50years
Gordon Moody provides unique treatment and recovery in safe, supported environments for those affected by gambling addiction.  Proceeds from the challenge will support Gordon Moody's general charitable activities, so that people have access to the right services, at the right time to reclaim and rebuild their lives free from gambling addiction.
Gordon Moody have had to remain aware of the ever-changing profile of clients over the last years to ensure their treatment remains effective. As a result, a comprehensive, clinical assessment is used for clients applying for treatment. Assessments are carried out by trained and experienced staff. The purpose of this comprehensive assessment is to ascertain the level of risk both to the client in terms of mental health, suicidality, and other issues such as substance abuse alongside safeguarding risks to those around them, such as dependents, parents, or siblings.
Complex Cases
It is noticeable that over the past few years, there has been an increase in the severity of complexity which clients are presenting with, as the table below shows.
Gordon Moody's assessment found that people with both problem gambling and substance abuse problems were more likely to have attempted suicide at some point in their lives and to have reported problems with sexual compulsivity. We also found that people with both problems also tended to engage in risky sexual behaviour. Gambling also proved to be a potential reinforcer of drug use, an obstacle to success in drug treatment programs and a substitute activity that increased as people stopped using drugs.
Suicidality
This figure represents those who have expressed thoughts of taking their own life during their application process. The figures have been consistently high in applications to Gordon Moody. The majority claim that they would not act on thoughts of suicide or self-harm predominantly through consideration to loved ones and dependents but of those that expressed suicidal thoughts in the past 12 months. 25% of applicants report having made an attempt or having planned to make an attempt of their own life.
Mental Health
The number of applicants who have been diagnosed with mental health issues has steadily increased by 44% over the last five years. The most prevalent mental health challenges that our services users faced in the last three years, apart from depression (37.9%) and anxiety (37.4), are Emotionally Unstable Personality Disorder (27,7%), PTSD, anti-social personality disorder (17%)
Particular similarities were observed between pathological gambling and EUPD clinical tableaux in areas such as impulsivity, emotional dysregulation, volatile interpersonal relationships, anxious attachment styles, a tendency for dissociation and rapid mood swings, high suicidality risks.
Gordon Moody is committed to working with other providers to treat mental health issues and will continue to raise the issue of Gambling Harm as a Public Health concern.
Criminal Justice
Applicants who have been involved in the criminal justice system as a result of their gambling activity has fallen over the last five years but still affects 1 in 4 of those who apply for treatment at Gordon Moody. We work with partners and initiatives such as the Criminal Justice Service set up by Gamcare to ensure our applicants get the support they need and, in recovery working with others to minimise the risk of clients re-offending.
Other Addictions
Both excessive alcohol and illicit drug use remain consistently prevalent in those that apply to Gordon Moody for treatment. Substance misuse presents a significant risk to applicants at Gordon Moody; introducing a client who has a dependency on other substances can negatively affect the treatment of the individual and those around us. To protect ourselves and to provide the correct level of support to our clients, the introduction of comprehensive assessments this year combined with our offer of pre-support help us to assess and offer the right level of support for those struggling with substance abuse.
Integrated Care
Partnering with a growing number of other organisations will aid us in our vision to support those detailed above in getting to the right level of treatment at the right time. Working with organisations such as the NHS, CAIS and Changes UK on providing an integrated support programme in the future to build on the current referral pathways we have built over the course of the past year.
We have embedded co-production across our services and deliver care developed alongside those with lived experience, resulting in tailored and bespoke packages of care that allow the individual to set goals, identify potential barriers, build recovery capital, and personal resilience resourcefulness. The mission is finding and sustaining recovery from harmful behaviours.
We understand individuals with complex needs and have developed services that, alongside evidenced interventions for addiction treatment, focus on addressing issues such as trauma, adverse childhood experiences, domestic abuse, grief and loss, parenting, and practical life skills support.
Dragos Dragomir – Clinical Director.