Alumni, Jo Mustafa, joined the Gordon Moody team at Manchester Pride in August. Here she tells her story about overcoming her fears to travel to Manchester.
So, the day had arrived for me to travel to Manchester to help out on the stall with Gordon Moody at Manchester Pride. I was apprehensive as I had never been to Manchester before so I had no idea where anything was.
Since being in recovery, I have done many things completely out of my comfort zone – which is both scary and exciting. I have learnt that it is ok to feel those things and I don't need to pretend that I am okay. Instead, by acknowledging and accepting my feelings, I can think more logically about the situation.
The journey to Manchester
Before setting off to the train station, I made sure I had a plan of where I needed to be and at what time. I looked at an online street view of where I was going, and that made me feel more relaxed. Previously, I wouldn't have gone, my anxieties would rule my life and, if I am being honest, I would have gambled all day instead.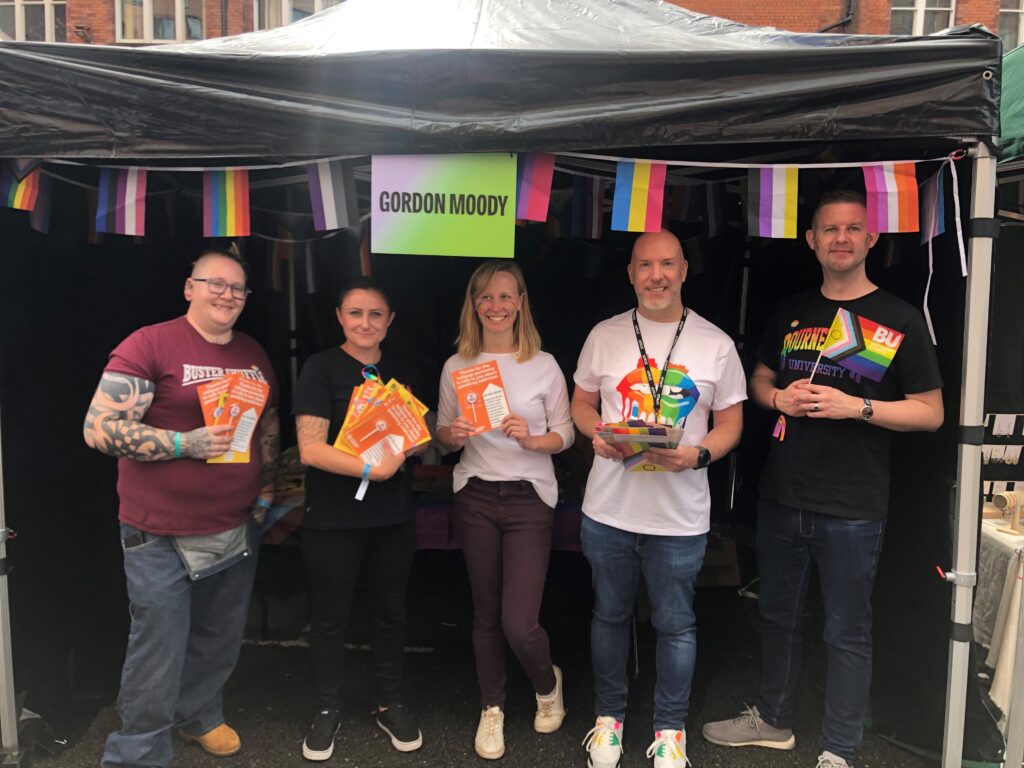 Arriving at my hotel
After a great day on the stall handing out leaflets and lollipops, and chatting to visitors, I got a taxi to my hotel. We pulled up to a house that did not look like a hotel at all and left me feeling a bit weird. Was I about to casually rock up on someone's doorstep and stay in their house?
Anyway, I went in and it seemed alright. They had a palatial living room next to the reception, which said staff only on the door. The guy on reception took ages to find my booking and eventually showed me to my room.
The horror hotel
We walked up to the first floor and it seemed as though I had walked into a completely different place. He struggled to unlock the dodgy loose lock and then left me to it.
I was absolutely horrified with what I walked into. There was no way I could stay in this room – it was shockingly dirty.
I was fuming quietly to myself and starting to freak out because I knew most of the hotels were fully booked because of Pride.
Trying to plan an escape
I just had to get out of there, so I left my bag and walked to a restaurant where I had a drink to chill out and think about what I was going to do. I had very limited options. There was only one train home that evening as there were train strikes but the journey time would be 15 hours.
I looked at alternative hotels but they were fully booked or the price was ridiculous. I literally had no choice but to stay at the horror hotel.
Making the best of the bad situation
I didn't tell the owners because there wasn't anything they could do to improve the situation or how I was feeling at this stage. I had, quite honestly, had enough and wanted to just get the night over with.
I laid on top of my coat because I didn't dare put my head on the pillows and watched tv – after trying to get it to work for ages.
After dropping something on the floor and it rolling under a cupboard, I used my phone light to shine underneath it and there was a dirty old mousetrap shining back at me!
I literally just laughed because I wasn't shocked by anything else at this point. I had to just accept it and try to make the best of the bad situation.
Coping strategies
I got through the night and was back in a taxi to the train station the next morning feeling relieved. Before my treatment with Gordon Moody, I would have coped with the situation by spending the entire night gambling in a world of isolation, so I didn't have to acknowledge my feelings.
But that isn't real. The reality is I would have felt a million times worse if I had chosen to gamble. Instead, I may have had a rubbish night but I am here, gamble free, and feeling no guilt or shame. I am simply relived to be going home and proud of who I am and what I have achieved.
GORDON MOODY ARE THE UK'S LEADING CHARITY DEDICATED TO PROVIDING SUPPORT AND TREATMENT FOR GAMBLING ADDICTION. WE HELP PEOPLE RECLAIM AND REBUILD THEIR LIVES THROUGH RECOVERY IN A SAFE, SUPPORTED ENVIRONMENT.