Gordon Moody visited Pride events around the country to spread the word about the services we offer the LGBTQ+ community.
Pride is a month-long celebration of lesbian, gay, bisexual, and transgender (LGBTQ+) people which takes place around the UK and the world every year.
SPREADING THE WORD at Pride
Throughout June, we set up stalls at Pride events in Bournemouth, Bristol, and London where we spoke to hundreds of people about Gordon Moody's treatment services that help people reclaim and rebuild their lives free from gambling addiction.
We talked to lots of people who have a partner, ex-partner, or family member with a gambling addiction who were interested in our services and keen to pass on details about Gordon Moody.
In Bournemouth, we shared a stall with Bournemouth University and YGAM which helped spread the word about our treatment programmes. We also spoke to other organisations at the events like Victim Support, fostering agencies, and sexual health charities about our services.
Background
Over the past year, 20% of the women who applied for treatment with Gordon Moody identify as lesbian, gay, or bisexual – whilst 2% of the men who applied identify as gay or bisexual.
According to research, people who identify as LGBTQ+ report that their sexual orientation and/or gender identity could influence their gambling addiction, particularly online (Bush-Evans, in press).
LGBTQ+ individuals are more likely to experience harmful gambling symptoms than heterosexual individuals (Richard et al, 2019).
36% of LGBTQ+ people who experience harm from gambling feel they should seek treatment, but targeted support is not available to them (Bush-Evans, in press).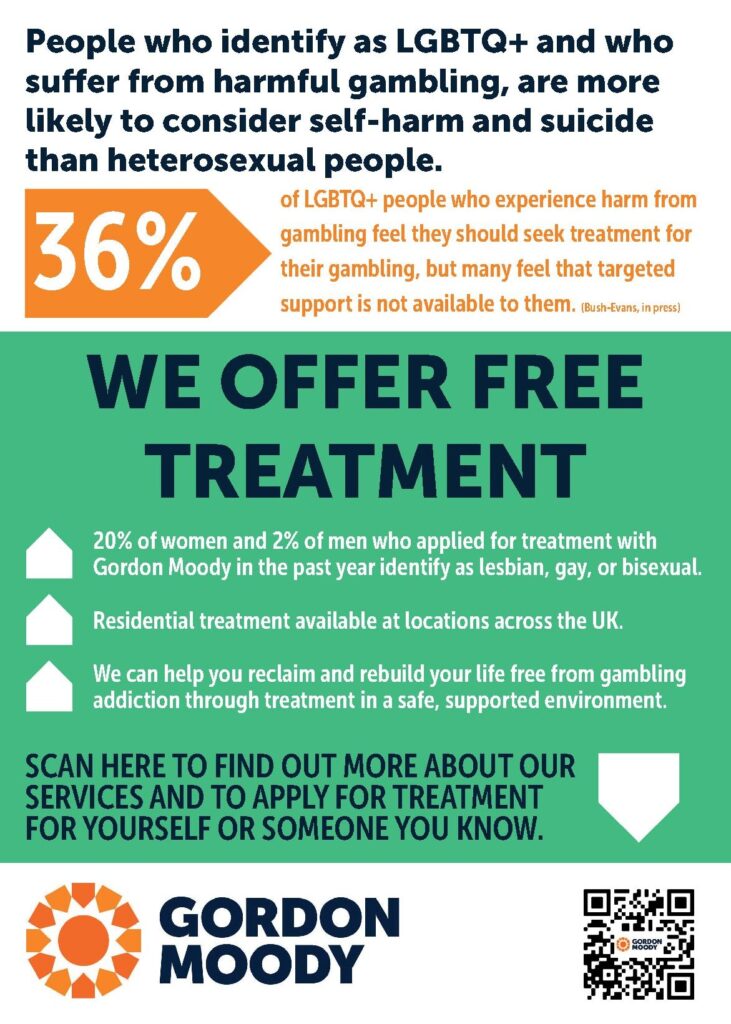 OUR TREATMENT SERVICES
All our interventions at Gordon Moody are tailored to our service users' needs. Our services are delivered by highly qualified professionals, from accredited psychotherapists to clinical psychologists, who are trained and equipped to focus not just on gambling addiction, but also on emotional health conditions.
GORDON MOODY ARE THE UK'S LEADING CHARITY DEDICATED TO PROVIDING SUPPORT AND TREATMENT FOR GAMBLING ADDICTION. WE HELP PEOPLE RECLAIM AND REBUILD THEIR LIVES THROUGH RECOVERY IN A SAFE, SUPPORTED ENVIRONMENT.
References: Richard, K., Baghurst, T., Faragher, J. M., Stotts, E., 2016, Practical Treatments Considering the Role of Sociocultural Factors on Problem Gambling. Journal of Gambling Studies 33: 265-281.